Dental Surgery is a close relative space, the bacterial and virus over the air will increase 6-20 times, and the splashy droplets and blood from patient's oral during treatment affect the zone of polished and cut chips around 1m, 1~2m is the low-risk distance, outer of 2m is the safe distance.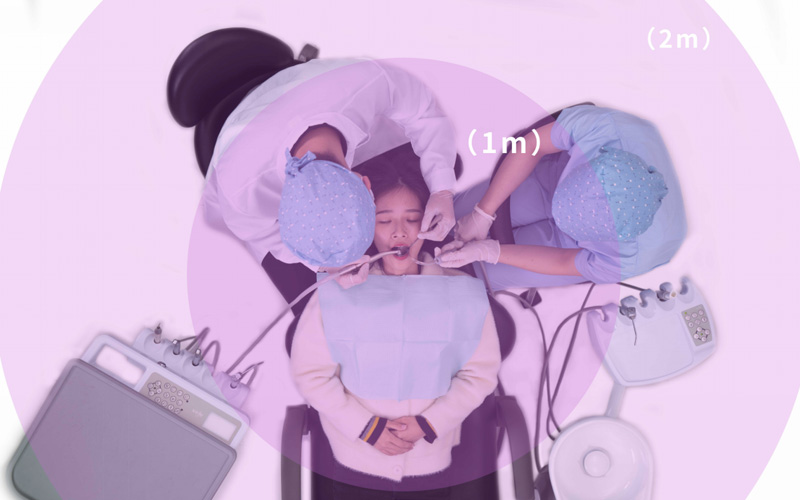 In the progress of treatment, Droplets and Aerosols produced by high-speed handpieces and ultrasonic scalers that enter the dentist's body through eyes, nose, skin, and clothes.
Bacterial and virus carried in the Droplets and Aerosols infect the surface of surrounding, which causes cross-infection easily.
ADS Extraoral Dental Suction System removes high volume of Droplets and Aerosols produced during treatment.
ADS calls the Dental Suction System as "Droplets & Aerosols Terminator", and here is a general overview of various advantages to defend dentists and assistants from bacterial and viral infections.

Ultrastrong Suction Power
Ultrastrong Iron Heart: Wisely select the motor from a reliable brand, which includes the various advantage such as negative voltage, high volume, minimal noise, long-life use, as well as suction power is the tenfold of central negative voltage.
Medical Grade Filtration System
Layers Filtration HEPA System: 3 layers HEPA filtration system, stopping virus and germs ≥0.3μm with 99.995% efficiency
Precise Water Vapour Filtration: Ensure dry water in the inner equipment and suction outlet.
Medical Grade UV Light Disinfectant System: Killing all the virus and germs in the filter
Excellent Aerodynamics Design
Rear-mounted Exhaust Design: Raised dust avoidance, effective suction assurance, patient comfort guarantee, minimal noise, and the air-tightness of independent R&D will prevent dirty air from leaking.
Digitized and Intelligent Technology
Filter Life Reminder: Display the rest life and expiration replacement reminder of the filter intelligently.
Precise Control System: 10 levels of suction power adjustment, digitized display screen.
Dual-use per equipment: 1-3 level is the mode of air purification, 4-10 level is the mode of Droplets & Aerosols remove.
Quiet Treatment Environment
Noise Insulation: Effectively insulate the noise produced by high-speed handpieces and ultrasonic scalers.
Thermal Insulation: Ensure the thermal of the inner equipment to avoid affecting the patient.
Reliability: Strictly select safe materials to avoid producing hazardous substance and a peculiar smell.
Flexibility Suction Arm

Moving flexibly and lightly: Select premium aluminum alloy materials, which are lightweight, flexible and lightless movement, long-life use, and disinfection.
Precise positioning: Three joint and six-way adjustment, stretching to the desired position by letting it go.
Transparent Suction Cover: Does not interfere with dentists and assistants with the range of visibility.
Save Spaces In The Surgery

Extra small size 275*275mm of equipment will not interfere with dentists and assistants with operation and movement, occupying small size and saving the spaces in the surgery.
Medical Silence Pulley
Professional medical silence pulley, moving smoothly and quietly.
The pulley can be locked to avoid the equipment slipped in an accident.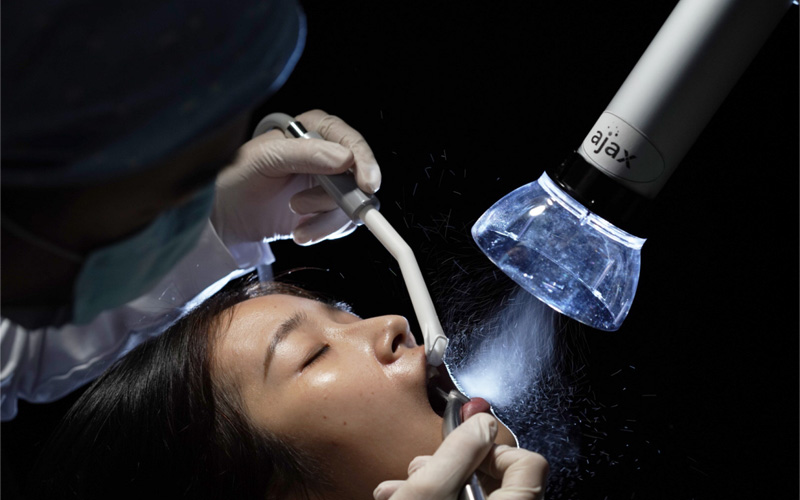 Use ADS Extraoral Dental Suction System to terminate droplets & aerosols, which will help defend dentists and assistants from bacterial and viral infections.

ADS has professional dental instruments for sale, contact us and get more info.